Business Visa Credit Card
Our Business Visa allows you to simplify your purchasing as well as manage and extend your payables by consolidating multiple purchases into a single payment. By using a credit card for smaller vendors or office supply purchases, you can save time and consolidate to a single monthly payment. 
Features and Benefits:

Make purchases knowing you won't be billed until the end of the month to increase your payables float



Easily limit your employees individual monthly spend and where they can use the card

Earn rewards for the purchases in 

store

 and online with our

uChoose Rewards


Lower your purchasing transaction costs by having only one monthly payment 




Online 24/7 365 with an option to integrate transactions into your 

accounting

 software

EMV chip card technology for added protection for secured transactions
No annual fee
For more information on all of your Business Cards & Payment needs c all (855) 256-7328, email us or stop by one of our convenient locations .
APPLY FOR A BUSINESS CREDIT CARD

Business Visa Debit Card
Using your Business Visa Debit Card for everyday business transactions can help manage your cash flow and simplifies the small day-to-day transactions of your business. The card can be used by your employees - each with their own card and unique PIN - and know that our EMV chip technology is keeping each transaction secure. 
Features and Benefits:
Available with all business checking accounts




Replaces petty cash for easier expense tracking




24/7 access to ATMs worldwide




Your purchases are itemized in monthly online statements for easy tracking




Higher levels of security with our EMV chip technology 




There is no need to apply for credit
Contact us if your Business Visa Debit or Credit Card is lost or stolen or you need to reach us after business hours. 
Many Ways to Pay


Tap. Pay. Done.  Pay with your phone in millions of stores worldwide, no wallet needed!


Apple device? Pay now. An easier way to pay with your iPhone ® , iPad ®  or Apple Watch ®


Load cards and check out with a tap . Check out fast, find nearby deals and get rewarded


Save time when you shop online. Easily pay online at your favorite stores with a single sign in



Automated Clearing House (ACH)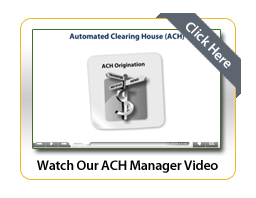 It's natural to worry about your finances, but worrying about each transaction your company makes should be less of a concern. With ACH, you can send single or multiple payments with low cost and no hassle. By utilizing ACH for collections, you can eliminate the need to process checks in-office. And all ACH transactions are handled through our eCorp Online Banking platform — giving you access to your information anytime you need it. tures and Benefits:
Access eCorp online 24 hours a day 




Originate payments or collections




NACHA formatted file uploads




Template based transactions




Reduce time and costs processing checks

Business to Business and Business to Personal transactions

Payroll direct deposit